Jingle bells, Jingle bells, jingle all the way: Santa Claus 🎅 is coming around, driving on a sleigh!!!!
Jaipurites are always excited for every festival. So here is the list of Christmas parties which is going around the city. where you having fun and celebrate Christmas eve with your family and friends. So what are you waiting for plan a day and Have fun… 🙂
1. Christmas Party at WTF Cafe

Santa is coming to WTF to party Hard. Not only this, Santa is offering free beverages too. Get your party shoes on to enjoy
Date: December 24, 2018 at 8 PM – 2 AM
Location: 3rd Floor,Man Upasana Mall,C-Scheme, Jaipur
2.   Pre Christmas Saturday at FBar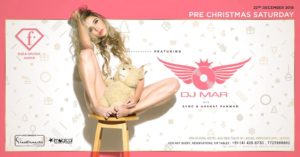 It's time to unbox some legit fun and happiness right before the Christmas madness kicks in! Load yourself with all the power because DJ MAR is gonna make you dance through the night and make it legendary!
Date: December 22, 2018 at 8 PM – 4 AM
Location:  Golden Tulip Jaipur, MI Road, Jaipur
3.   Mystical Christmas Eve at Scary Mansion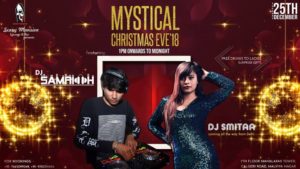 A Holiday that we celebrate not as individuals nor as a Nation but as a Human Family. Enjoy this Christmas Eve with DJ Samrith and DJ Smitaa.
Date: December 25, 2018 at 1 PM – 12 AM
Location:  7th floor Mahalaxmi Tower,Calgeri road,Malviya Nagar, Jaipur
4.   Sexy Santa at JBSE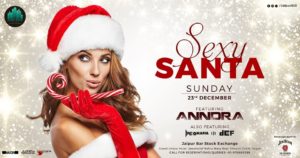 Jaipur, get ready to experience a very different Christmas party this festive season only at JBSE! Move and Loose on the Jazzy grooves, hey all you guys & girls out there, this one's for you as we bring out a hot and sexy Santa for you.
Date: December 23, 2018 at 8 PM – 2 AM
Location:  Grand Uniara Hotel, Jawaharlal Nehru Marg, Near Trimurti Circle, Jaipur
5.   Christmassy Affair at Stardust Jaipur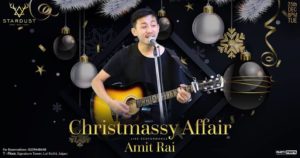 The spirit of joy comes alive in the wonderful voice of Amit Rai. Spread the festive cheer and make your evening merry as you join us for a celebration on the occasion of Christmas accompanied by cheerful music by Amit Rai 
Date: December 23, 2018 at 8 PM – 11 PM
Location:  Signature tower, behind apex bank, tonk road, Jaipur
6.   Christmas Celebration Eve at Polo Lounge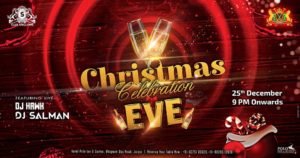 As we deck the halls and decorate the Christmas tree, we'd like you to join us for an evening of festive drinks and merry making. Join them to tap your feet and put the stage on fire with us at Polo Lounge Jaipur.
Date: December 25, 2018 at 9 PM – 4 AM
Location:  Bhagwan Das road, Jaipur
7.   Christmas Celebration at Underscore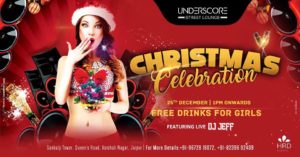 We have hung the lights and trimmed the Christmas tree. All we need to celebrate is you! Ladies! Just drop in for all the fun at our holiday celebration party at Underscore.
Date: December 23, 2018 at 1 PM – 11 PM
Location:  Sankalp Tower, Ground Floor, Queens Road Turn, Khatipura Road, Jaipur
MERRY CHRISTMAS JAIPUR…. HAPPY HOLIDAY….