Romance needs a place for celebration and if you are in such a romantic city like Jaipur, it becomes an unforgettable experience. The grandeur of the Pink City and its sublime beauty are perfect for lovers especially in such a romantic weather. Pinkcity is always a first choice of people to enjoy such a romantic Gulabi weather.
There are some exquisite restaurants with their elegant charm and gorgeous decor.
The romantic appeal of these restaurants and their flavorful cuisines are just the invitations for loving couples who wants to celebrate their everlasting romance. Here are the list of the best romantic restaurants in Jaipur, where you can cherish intimate moments of togetherness, and spend a lovely time…
1. Peacock Rooftop Restaurant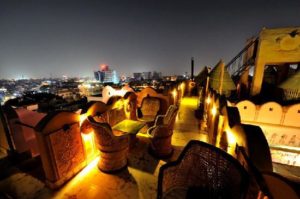 To dine in the romantic ambiance of this restaurant in the Hotel Pearl Palace is a pleasure every couple should take when in Jaipur. The decor is colorful, the ambiance sparkling, and the food is exquisite.
Rooftop seating gives a great view, and the colored lighting gives a wonderful aura to the place. The food, from burgers and pizzas to royal thalis, and a filling breakfast, is very delicious. Try the garden seating and enjoy the privacy you need!!
Location: Gopalbari
Zomato Rating: 4.4/5
Cost for two: Rs.900/- (approx.)
2. North West Corner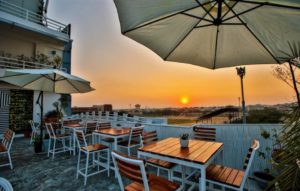 This casual dining cafe can make your evenings more romantic with its eclectic decor and stylish interiors. There are rooftop ambiance and elegant seating in colorful chairs.
The food is modern and contains delicious dishes chosen from Continental, Chinese, North Indian, and other cuisines. If it's a special dinner date or just a casual hangout with your girl, this is the best restaurant to go to Jaipur.
Location: Chitrakoot
Zomato Rating: 4.3/5
Cost for two: Rs.750/- (approx.)
3. Cinnamon (Taj Jai Mahal Palace)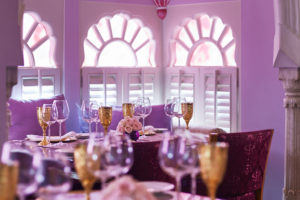 Charming everyone with its traditional architecture and beautiful decor, this restaurant is in the Taj Jai Mahal Palace. The gentle environs and romantic colors will swoon you and your beloved with its grace and charm. And the food, of course, is most delicious.
Location: Civil Lines
Zomato Rating: 4.2/5
Cost for two: Rs.3,600/- (approx.)
4. Forresta Kitchen and Bar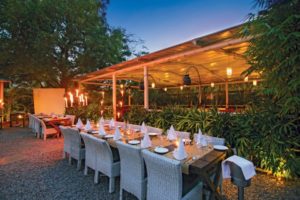 The green surroundings of this restaurant are best for a romantic dinner date. The spacious outdoor seating gives a good view of the glittering lights and the stars.
The interiors have a forest-themed decor with dim lighting and soft music. Excellent food from global cuisines and delicious cocktails are there for you to relish.
Location: Bani Park
Zomato Rating: 4.2/5
Cost for two: Rs.1,600/- (approx.)
5. Bar Palladio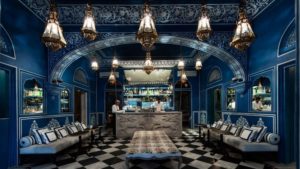 One step inside this restaurant and it is easy to see just why it happens to be on this list of the most romantic restaurants in Jaipur. Awesome Mughal architecture, with rich blue themed decor, oozes with a rich tasteful charm, which reflects in your dining as well. The Italian food here is out-of-the-world, and the bar has the best of wines, and other liquor.
Location: Narayan Singh Circle
Zomato Rating: 4/5
Cost for two (with alcohol): Rs.1,800/- (approx.)
6. 1135 AD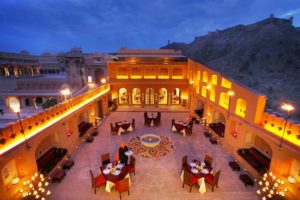 With its defensive walls soaring up to the sky, 1135 AD is indeed a gem hidden in the heart of Jaipur. At this restaurant, you will notice that the guests are not only marveled by the authentic flavors and the ambiance, but also by the engravings in the walls, which are graced by pure gold and silver. Feeling royal already?
Location: Amer Palace
Zomato Rating: 4/5
Cost for two (with alcohol): Rs.2,700/- (approx.)
7. Steam – Taj Rambagh Palace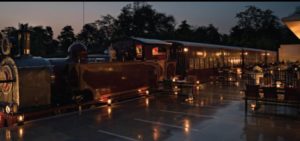 International cuisine is served almost in all Jaipur restaurants but at a romantic and an unique spot like Steam, you are bound to relish some of the best Lebanese dishes. Reflecting the architecture and decor of the Victorian era, it is a must to experience how it feels to dine within a restored steam engine.
Location: C Scheme
Zomato Rating: 4.5/5
Cost for two (with alcohol): Rs.2,800/- (approx.)
8. The Terrace Grill

When you have a rooftop seating like that of this fabulous restaurant in Hotel Park Prime, then dining becomes even more romantic.
Seated on the candle-lit table, you can look down on the glittering lights of Jaipur and dine on the most sumptuous barbecue meals with your loved one. Every dish, vegetarian or non-vegetarian, is authentically prepared with the best ingredients and spices.
Location: C Scheme
Zomato Rating: 3.7/5
Cost for two: Rs.1,800/- (approx.)
HAPPY GULABI WEATHER JAIPUR…