The most colorful and vibrant festival of India – Holi – is marked with much fun and fervor throughout the country and other parts of the world. Bright colors, water balloons, lavish gujiyas and melodious songs are the ingredients of perfect Holi. To make them more perfect, Here are some marvellous holi events to make your celebration more colorful.
1. Holi celebration at Sunrise health resort
Biggest holi party in town… Holi celebration!!
Enjoy this holi with Sunrise Health Resort, Jaipur Musical night with live band… Special Holi packages.. Many more fun activities
For Booking contact: 7665644441, 9983333900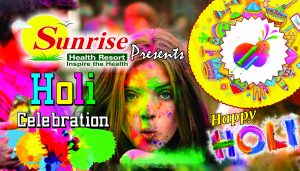 Venue: Sunrise Health resort, Jaipur
Date: 2nd March 2018
Time: 9am to 5pm.
2. Holi Music festival Jaipur 2018 at Hotel Narain Niwas Palace
Come and celebrate this day of wearing whites, vivacious vibes and trance tides. Enjoy the colourful and vibrant "Musical Festival" with DJ INDOMAFIA, PRASH, SYNC and ofcourse, YASH TYAGI in the beautiful gardens
For Booking contact: 9784222212, 9680018787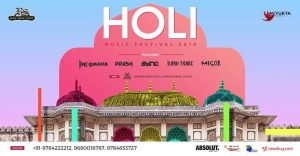 Venue: Narayan Singh Hotel, Narayan Niwas, Jaipur
Date: 2nd March 2018
Time: 9am to 6pm.
3. Holi festival party at aravali orchard
The air is thickened with festivities. HOLI is around the corner, hues are in the air.
COME TO ARAVALI ORCHARD- TAURU to enjoy HOLI HANGAMAA
in the lap of nature with friends, near and dear ones.
Indulge in fun and frolics, rub ORGANIC colours on your friends and let the friendship bloom.
For Booking contact: 8527013535, 9810553296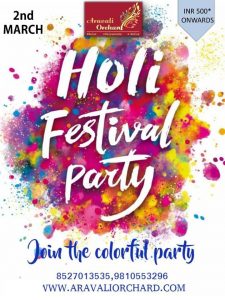 Venue: ARAVALI ORCHARD – TAURU, Jaipur
Date: 2nd March, 2018
Time: 10 am to 4 pm.
4. Eleholi Fest
Eleholi Fest offers fascinating day activities that will bring you closer to the understanding of the festival and the way Indians celebrate this occasion. What is more? Every major celebration in India is marked by the presence of the most graceful of animals – elephants. Eleholi Fest gives you this unique chance to experience Holi with an elephant. Embrace colorful fun and share your love with the elephants – we guarantee a rewarding life-time memory for you.
For Booking contact: 8955666771, 9929309644, 9929762420



Venue: Eleday kunda, Amer,Jaipur
Date: 2nd March, 2018
Time: 9 am to 6 pm.
5. Holi on the House at Heiwa Heaven
Experiences the most vibrant Holi filled with organic colours to splash on each other along with rain dance where you can groove in all you want under the showers of water. To make the party more fun, there will be dhol and bollywood tracks played just for you with tangy snacks and relaxing drinks being served.
For Booking contact: 9680245673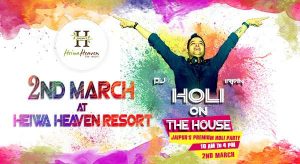 Venue: Heiwa Heaven Resort, Jaipur
Date: 2nd March, 2018
Time: 10 am to 4 pm
6. Rang Barse holi
Enjoy the color of festival on the beat of live dhol, Rain dance, Kids zone, Bollywood & house music with DJ BNU, Dj Mady.
For Booking contact: 9057930808, 9828011177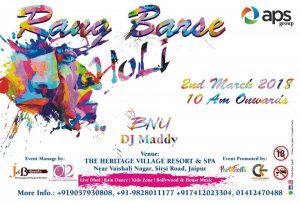 Venue: The Heritage Village Resort & Spa, Jaipur
Date: 2nd March, 2018
Time: 10 am onward
7. Colors of dreams Holi Music Festival
Color of Dreams Holi Music Festival 2018 is the celebration of culture & people of Jaipur through the language of Music & Colors. The event is a fun blend of EDM, Commercial and Bollywood Music mixed with delicious food & activities. To top all this, the event Features VAPORIZED, SOUND AVTAR and DIVINE AFFIRMATION to get you start-struck & blow your mind to the next level!
For Booking contact: 9212184185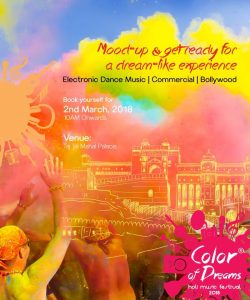 Venue: Taj Jai Mahal Palace, Jaipur
Date: 2nd March, 2018
Time: 10 am onward
8. Raas Rangila Holi festival
Enjoy the colorful party on the featuring on DJ Dev at shyam garden palika bazaar
For Booking contact: 8619249443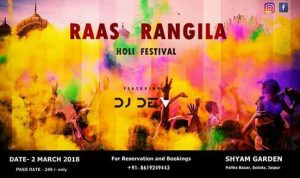 Venue: Shyam Garden, Palika Bazar, Jaipur
Date: 2nd March, 2018