If you are living in Jaipur and are among the ones who love shopping and is about to get married, then it is likely that you must be planning a shopping  into Jaipur.
Jaipur is an exotic city – a land of palaces, forts and rich heritage. Jaipur is also known for its textile, handloom, tie-and-dye sarees and of course, vibrant jewelry, and this very reason makes it a shopper's paradise. It is the city you should be heading to for your endless wedding shopping! If you're like me, you'd definitely love the colorful bazaars which have innumerable shops that can prove to be a real deal for the explorer in you.
If you talk about wedding shopping, there is an immense choice and the pink city of Jaipur leads the charts.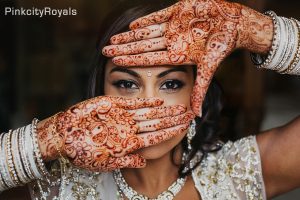 The Jaipur bazaars are a treat for those who love to explore and discover. They are located in and around the famous HawaMahal, which is part of the walled city (The OLD JAIPUR City).
Johari Bazaar, Bapu Bazaar, Nehru Bazaar, Chaura Rasta, (also called the Sawai Man Singh Highway), Tripolia Bazaar and the Mirza Ismail Road (Popularly known as M.I. ROAD) are some of the main shopping areas. we get married once and want the best for ourselves, our life and the people in it. There is a lot to shop and find in Jaipur.
We list some of the most popular places, designer stores, boutiques and local stores for you to shop in. Read on as we just made the whole shopping and discovering a li'l easier.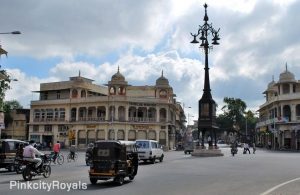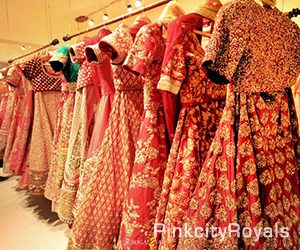 Amrapali Jewels : Globally renowned Amrapali Jewels is known for its fine silver, kundan and tribal jewellery. For anyone wondering, it was founded in the year 1978 by Rajiv Arora and Rajesh Ajmera in Jaipur. Amrapali is now a favourite amongst Bollywood and Hollywood celebs. Indian designers have also collaborated with them to create some of the most iconic designs!
            Well Known for: its fine silver, kunda and tribal jewellery
            Price: Rs 3000 to Rs 2 lakhs
           Address: PanchBatti, M.I.Road, Jaipur
Yamini Tholia: A boutique by designer YaminiTholia, it has traditional Indian evening-wear on stock. You can also get colourful juttis and potlis to go with your ethnic wear.
Well Known for: her use of gotapatti, block print and tie-dye pattern
         Price: starts from Rs 3000
         Address: Tholia Building Inside Courtyard, M.I. Road, Jaipur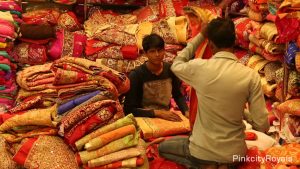 Saffron by Nidhi Tholia : Saffron has beautiful collection of Indian ethnic-wear mostly inspired by the Mughal Era. The embroidery features gota-patti work, the colors are quite vibrant and the work is intricate. Their pastel anarkalis are a favorite!
         Well Known for: Indian ethnic wear inspired by the Mughal era
        Price: Rs 10,000 to Rs 100,000
        Address: C72 B, Sarojini Marg, C-Scheme, Jaipur
Karigar : Karigar has ready-to-wear Indian ethnic-wear, accessories, footwear and semi-precious jewelry. The collection combines classic with casual & edgy with feminine silhouette!
         Well Known for: its use of finest raw materials and fabrics like raw silk, brocade, jamawar, crepe, georgette, net, shimmer, shimmer-georgette and shimmer-net, traditional techniques and  hand-based processes.
         Price: Rs 3500 to Rs 35,000
        Address: F- 411, Gautam Marg, C-Scheme, Jaipur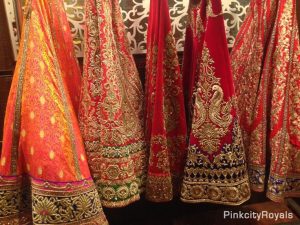 Vasansi: Vasansi is one of the hottest destinations when it comes to bridal shopping and wedding trousseau. The collection is largely inspired from traditional Indian hand-work along with contemporary designs & silhouette. The cheery colours and intricate work is what pulls customers to its emporium.
         Well Known for: its traditional Indian handiwork along with contemporary designs & b silhouette
         Price: Rs 4300 to Rs 78,000
        Address: D-69A, JawaharLal Nehru Marg, Near Teen Murti Circle, Jaipur
Silhouette by Swati Rohilla:  Head over to Silhouette for wedding trousseau along with matching jewellery and accessories. Silhouette by Swati Rohila, Holding that it's not the attire that is important but the woman who is donning it, Silhouette by Swati Rohilla believes in creating designs that are expressive and style that is individualistic.
        Well Known for: bespoke and made-to-order bridal outfit
       Price: starts from Rs 8500
      Address: E-86, Siddharth Nagar, Malviya Nagar, Jaipur
Johari Bazaar is the one stop for jewellery and tie dye sarees, fabrics, suits, lehengas and textiles. It is a street with shops on either side. Yes, you guessed it right! This is the place where you can get all your jewelry from. It is known for finest silver, diamond, polki and kundanjewelry. The jewelry here is the finest work of art that you'll ever see. Apart from jewelry, you can get the trademark Jaipuri print handloom – bandhani (tie-and-dye) sarees and lehengas.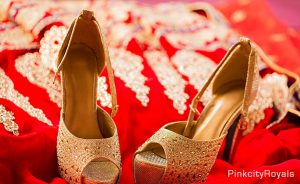 Bapu Bazaar and Nehru Bazaar, are also a must visit place for textiles, local perfumes, shoes made of camel skin (jutties/ mojaries), Rajasthani trinkets and bandhani work. Bapu Bazaar also Has the famous SARAOGI MANSION Market- that has many famous stores, known for Indian bridal trousseau. Saraogi Mansion which houses a number of bridal stores with elegant lehengas and graceful sarees. When you are in bapu Bazar do not miss the golgappas and kulfifaluda.
Tripolia Bazaar has its boundaries drawn between Chhoti Chaupar and ManakChowk. Much like the other places of Rajasthan, this Bazaar also has its flavors melted in the traditional charm of the state. You can go to Tripolia Bazaar for the most stunning lac bangles that there are! Colorful, glittery and veritably iconic – your shopping in Rajasthan is incomplete without a dozen or two of these bangles. Being acknowledged for its handicraft items and various antiques, the place stays crowded at all times of the day.
BadiChaupar is placed centrally inside Jaipur old city walls. Immediately after HawaMahal, you can see the main square BadiChaupar, which leads to some fascinating bazaars like the Ramganj Bazaar on the east, where one can observe the leather shoe-makers who are busy in their work. Several outstanding jewelers of Jaipur have their showrooms at this place.  Good deals are available on almost all the things here. You can buy your favorite items including a number of souvenirs from this market. In BadiChaupar, visitors can shop handicraft, Mojaris, Rajasthani furniture, antiques, Jaipuri print dress materials and beautiful Salwar suits.
There are plenty of prominent showrooms and very good vendors to go to. Raja Park houses a variety of stores that serve to you almost everything. From household items to flowers and furniture to clothing, you can find all that you may think of. Raja Market is also synonymous with the latest trends and has a number of shops selling designer clothes and footwear. If you are looking for any designer Lehanga and outfit for your wedding then your search will stop here. So head to Raja Park and get all your bag stuffed with clothes, shoes, souvenirs and everything…!!
Apart from these quintessential shopping destinations, there are a number of smaller shops along the by-lanes for a great shopping opportunity. There's just so much to see and lots to explore in Jaipur. Just keep an additional bag because you'll be coming home with some extra luggage!
Take some time out and discover for yourself, and you will not regret choosing Jaipur as a shopping destination. Here's wishing you Happy Shopping 🙂