Literacy is still a luxury for almost 50% girls in Rajasthan. The girls who live in the slum are often deprived of this basic right and either they are made to work as a domestic help or they become caretakers of their younger siblings. Also, day by day, the urban slum population is rising because of migration from rural areas, therefore, giving rise to illiteracy amongst girls.
Vimukti girls school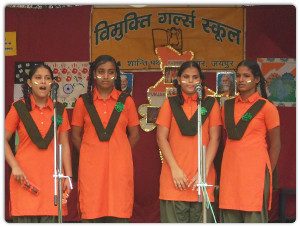 The scenario is such that if there are 3 children in a family, only the boy will be sent to school and given milk or other nutritious food. This is what Lavalina Sogani discovered from the daughter of a security guard. Apparently, Sangeeta, the 14 Y.O. guard's daughter regularly visited Lavalina's house to play with her daughter. One day while Lavalina was giving her kids milk and cookies, she also offered Sangeeta a glass too. But Sangeeta denied her offering saying she isn't allowed to drink milk or go to school since she is a girl and only her bhaiya enjoys both.
It opened Lavalina's eyes and she decided to do something about it. And henceforth, Vimukti Sanstha took birth. It is a registered society which started an integrated programme for educating the underprivileged girl child from the urban slums. The main objective of this programme is to combat and overcome the vulnerability of these girls through literacy and education and to make them self-reliant and self-employed citizen. This programme is implemented through Vimukti Girls School.
What is so special about this school?
Vimukti Girls School (VGS), Jaipur provides completely free education to the girls of slums. VGS does not charge any fee and provides free books, bags, uniforms, stationery, transport and light meals.
The criteria for admission in Vimukti Girls School is that the family income of the students seeking admission should not be more than Rs 10,000 per month and the teachers visit the houses of admission seekers to make sure that only the needy are benefited.
The curriculum at the school entails educating the student from Pre-primary to Senior Secondary level. A dedicated cadre of full-time professionally qualified and trained teachers, staff and volunteers support the Vimukti learning experience.
There is a constant endeavor to engage parents in the school activities. Parent-teacher's meetings are held regularly and it is noticed over the years that not just the mothers but also the fathers now take interest in the education of their daughters. The parent's attendance in these meetings now is 80-90%. Parents are invited for Annual Function Celebration as well as Sport's Day.
Some special features of the school
The school started with 32 students in 2004 and its strength today is almost 600.
VGS started with K.G. and now has 16 classes until 8th. Every year the classes will increase till the 12th class.
VGS had a Smart Class for their students.
VGS also has its own book club-Barbara Book Club, a computer lab with 10 computers and a small science lab as well.
All the students are encouraged to take part in vocational training. At present courses are conducted for beautician, stitching, and cooking.
The school children practice Yoga regularly. They are also given lessons in moral science.
Post school support
Vimukti initiated a program of post-school support in October 2015 for deserving girls to pursue vocational training directed at obtaining gainful employment or coaching to prepare them for entrance exams for higher studies, after completing class XII. Under this initiative, Spoken English classes and career counseling sessions are being conducted for class XII girls.
The participation of girls in this free school is rising. Parents are also willing to educate their daughters further, seeing that their daughters help them with mathematical calculations, reading/writing letter etc. The girls who are trained under vocational courses earn more than those who are uneducated.
Vimukti girls school
Vimukti Girls School has not only given wings to many girls to fly high and achieve their dreams but is also promoting gender equality. Where once even thinking about going to school was denied, the urban slum girls aspire to become doctor, engineer, teacher.
Kudos to Vimukti Sansthan for taking up such a powerful initiative and making it a successful one changing lives of hundreds of girls.
Contact Details
Address: Vimukti Girls School, C/o Alpha Beta School, Sector-16, Pratap Nagar, Sanganer, Jaipur-302033
Contact No.: +919509199887, 918058799987